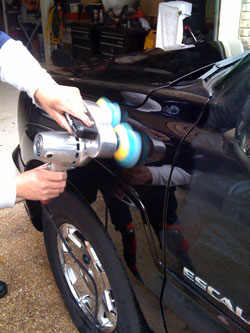 Cen-Tex Mobile Wash - Car Detailing, Waco, Texas
Welcome to Cen-Tex Mobile Wash, a mobile car detailing service located in Waco, Texas!
Manuel (Manny) Olvera and his dedicated crew stand ready to provide professional car detailing services to you at your home or place of business. Too busy to go through the car wash and get your interior cleaned the way you want it to be? Call us at (254) 753-0268 and we'll take care of it!
Manny has twenty years of experience in the business and has lived in Waco most of his life. He is determined to be the top mobile car detailer in Waco. He is a member of the International Detailing Association and has professional training in auto detail and reconditioning. Se Habla Español!
Who We Serve
We have worked with many individuals and companies over the years. We've detailed out heavy equipment for Caterpillar, work regularly with Enterprise Rent a Car, gotten vehicles in top sales condition for car dealers and people who want to sell their car, and have done auto detailing for some of the finest cars in the greater Waco area, including Jaguars, Escalades, BMW's, Corvettes, and others. Our customers are people who just don't have the time to take their car to a car detailing shop and they don't feel a car wash gets their car very clean.
We serve the greater Waco area, including Lorena, Woodway, Hewitt, Lacy Lakeview, Bellmead, Robinson, and a 25 mile radius of Waco.
For a reasonable fee, we will come to TEMPLE, KILLEEN, and points in between to detail your car, truck, SUV or what have you! Temple and Killeen both deserve good car detailing services. We will come to your residence or business to detail your car in Killeen or Temple.
WE LOVE BAYLOR STUDENTS, PROFESSORS, AND STAFF!
SE HABLA ESPAÑOL!
Why it make sense to get your car detailed
In these economic times, many people are opting to keep their cars and make them last a few years more. You owe it to yourself to invest some money in making your car the best it can be. Spic and span inside and out. Carpets completely steam cleaned with hot water extraction. We can even clean your engine. You'll feel proud to drive your car again and you'll be pleased when you get into it like you used to be when it was new.
Fleet Service
We now offer fleet service for companies. We'll come to your business and wash every car and truck in your fleet for a reasonable price! Call or email for a quote!
Hours
We are available by appointment. Just call, email, or text me!
Payment Options
Cash, Check, MasterCard, Visa. We accept credit cards via the
website
and also in person, onsite.
We also accept invoices/PO's for companies upon credit approval.
To pay using your credit card, just visit our PAYMENT page.

Please note, we are INSURED for your protection.
Find Us on Social Media!


---


---
Some of the certificates we have earned over the years: